Citywing was an airline in business on the Isle of Man. It started operating in 2012 and was put out of business in 2017. Headquaters of Citywing were based in Ballasalla, Hangar 9 of Isle of Man Airport.
Its destinations where limited to regions within the UK. Either temporarily or regularly included were:
Isle of Man
Belfast
Blackpool
Gloucester
Glasgow
Jersey
Newcastle
Cardiff
Anglesey
Interestingly Citywing was an airline without owning any aircraft. It leased or chartered aircrafts, whenever needed. In the end, this was what caused the companies bankruptcy. When the partners Citywing relied on in chartering aircrafts ran into trouble and lost their licenses to operate in the UK Citywings' bankruptcy followed as a consequence. 
This is what Citywing wrote about itself in their welcome section on their website:
Welcome to Citywing – CITYWING OFFERS EXCEPTIONAL FARES ON ROUTES TO ANGLESEY, BELFAST, BLACKPOOL, CARDIFF, GLOUCESTER (M5), GLASGOW, ISLE OF MAN, NEWCASTLE AND JERSEY

Website of Citywing until 2017
Citywing on Twitter
The airline was rather active on Twitter and gathered more than 3.000 Followers. Nevertheless, the last Tweet was posted on April 4th, 2017:
LIQUIDATOR'S ANNOUNCEMENT

This notice is to all passengers and creditors of Citywing Aviation Services Limited…. https://t.co/fpIcUAbnsF

— Citywing.com (@Fly_Citywing) April 4, 2017
Activity on Social-Media-Channels included updates on flights as well. Communicators at citywings covered takeoffs and landings of the companies aicrafts and threw them to their audiance.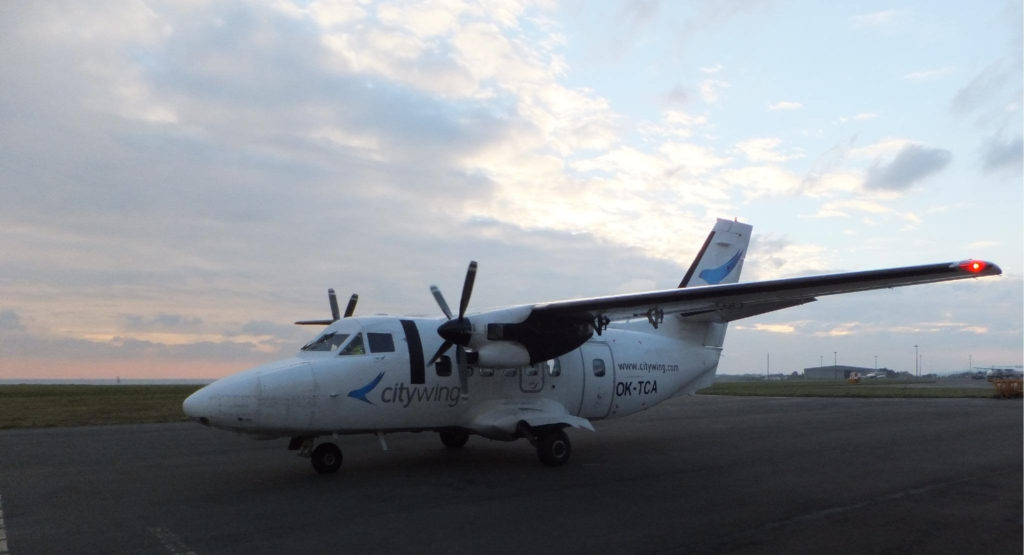 Comlications in booking-regulations
The fact that the airline did not own any aircrafts made booking-regulations a bit tricky. Depending on where travellers wanted to go, they had to comply with different regulations. Here is an excerpt from what was written on the airlines website before it was filed for brancruptcy.
"When you book your contract is with us, except if you book flights to or from Anglesey and Cardiff. Please see Anglesey and Cardiff flights below. For flights other than Anglesey and Cardiff please refer to our Terms and Conditions of Carriage for details. The information on this page does not form part of our Terms and Conditions of Carriage. For the operation of Citywing flights we contract with air carriers licensed and insured as air carriers in accordance with the requirements of European Community law. These air carriers, who make available all the seats on each aircraft for us to sell to our customers, are responsible for operating the aircraft, and providing crews, maintenance and insurance for our flights, including insurance against legal liability to passengers and for their baggage, according to those requirements. Citywing is also insured, including insurance against legal liability to passengers and for their baggage, in accordance with the requirements of European Community law. In the process of booking one of our flights the name of air carrier scheduled to operate your flight is shown on your itinerary. This is confirmed in your e-ticket when you have booked. (As provided in our Terms and Conditions we may need for operational reasons to substitute another air carrier.)"
As you will notice different contracts applied in dependence of destinations. Anglesey and Cardiff passengers had to follow different Terms and Conditions than all other passengers.

Important Destinations for Citywing
Probably one of the most important destinations for Citywing was Blackpool. The airline promoted a 7-day Blackpool pass on its website, trying to encourage travellers for a trip:
Visit Blackpool has teamed up with your favourite Blackpool attractions to ensure you have the best possible time and enjoy great value for money when you visit the resort.

The Blackpool Resort Pass will give you one visit to each attraction across seven days. And the great thing is there will be a number of options to build your very own personal Resort Pass ensuring you have lots of choice and saving you £s!

Citywing 2016
Highlights of Blackpool, that were pointed out included the following:
Blackpool Pleasure Beach including Nickelodeon Land
The Blackpool Tower Eye & 4D Experience
The Blackpool Tower Dungeon
Madame Tussauds Blackpool
SEA LIFE Blackpool
Sandcastle Waterpark
Blackpool Zoo
Blackpool Model Village & Gardens
And during the short Citywing-Flights, passengers had a chance to look through one of the airlines "Inflight-Magazines". One must admit: Citywings had thought of it all. It will be well remembered.